The Private Couture club of Maison Yeya
Bespoke to your every whim
While couture is the art of bespoke dress making, at MAISON YEYA, Couture Priveé is the term used when not only the garment is made up to a client's unique measurements, but also made to their unique tastes and looks. A process in which Creative Director Yasmine Yeya designs a dress for you, inspired solely by you. Discover more from the MAISON YEYA Private Couture Club, and cater to your unique and individual desires.
The Couture Process
Consultation
The first step of the couture process involves meeting with our atelier manager, who will understand your initial requirements and give you an preliminary consultation prior to your meeting with Creative Director Yasmine Yeya.
Make a consultation appointment in our Dubai atelier
The Appointment
In this meeting, Creative Director Yasmine Yeya will go into detail with you regarding your occasion – how you would like to look, and what suits you best.  She will guide you through the selection of style, color and unique embroidery –  made in-house, solely for you. The design process of your perfect dress starts here.
The Sketch
Led by Yasmine Yeya, the design team will draw some sketches for you to choose from. Your dressmaking journey starts here.
The Making
From sketch to creation, the MAISON YEYA artisans will hand craft your dress with the utmost intricate of couture techniques. Whether it is a simple draped satin dress that will be wrapped around your figure by the own hands of designer Yasmine Yeya, or a fully embroidered dress that will take months to execute – a unique creation with perfection at its core will come to life.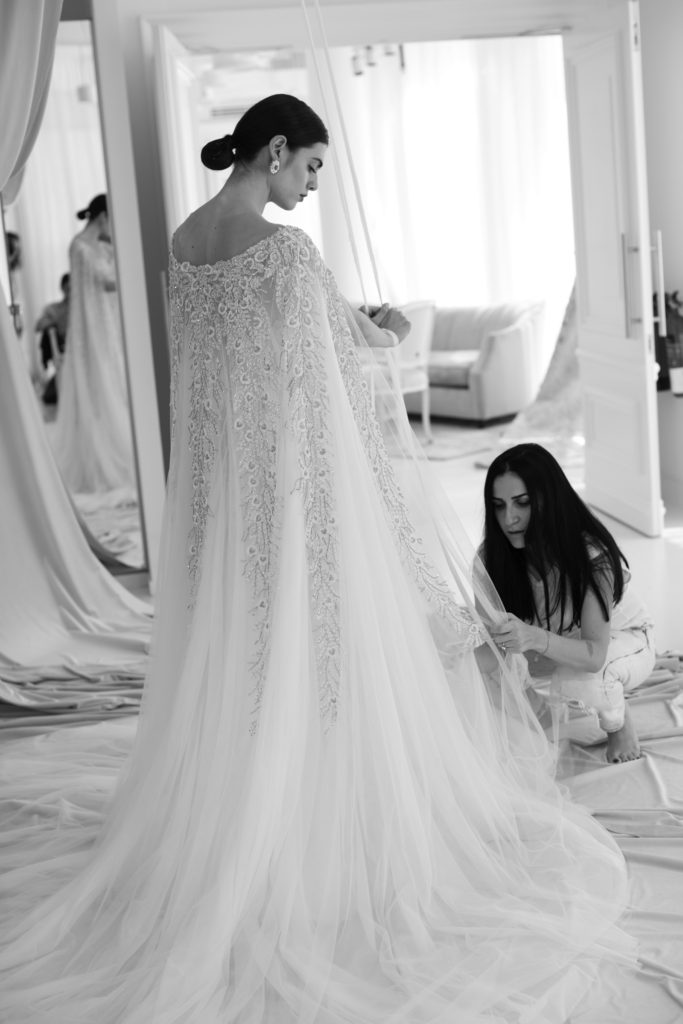 Fittings
Multiple fittings will be scheduled at either our Dubai atelier or at the comfort of your own home, to fine-tune the smallest details to your body's slightest curve.
Dressing Service
Our dressing service during your event will provide you with the vastest luxury experience, impeccably completing your journey to perfection.